Now, if you are looking for a laptop that's got the MacBook Air "feel" with Windows functionalities, then the ASUS Zenbook UX305 is exactly what you are looking for. Basically, if you need some transition from Mac OS to Windows 10, this laptop is perfect for you.
Weighing at only 2.65 lbs, it is one of the lightest laptops around. With its 8GB RAM, 256GB memory, Intel Core M-5Y10 processor, Turbo Boost, a battery that lasts more than 10 hours, and the $700 cost, it feels like too good to be true. Basically, no one thought you could a brand new Ultrabook for less than $1000!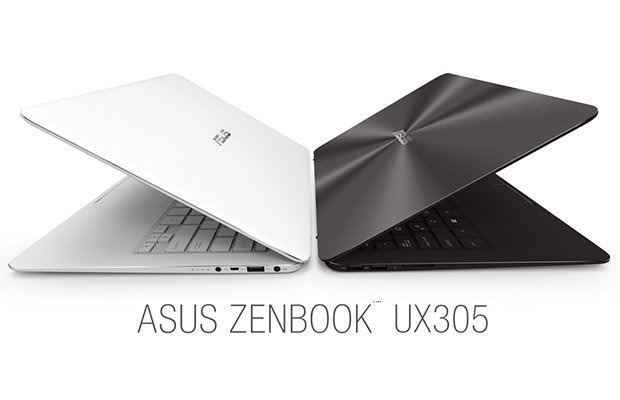 Resolution is friendly to the eye
It has a resolution of 1080 x 1920 that makes it perfect for those who love reading a lot, for you can read for more than 12 hours without experiencing eye strain or headaches of some sort. It also has the "matte" finish on its screen, meaning that there are no glare instances. Therefore, if you've been searching for an eye-friendly laptop, then you now know which to buy.
Fast, speedy performance
When it comes to speed performance, this ASUS Zenbook runs without any stutter. And even though its Intel Core M-5Y10 processor clocks at 800MHz, don't be fooled and expect that it won't multitask programs. Instead, have a better, physical feel at it and you'll be surprised. It can actually handle whatever you throw at it. For instance, it can handle more than 10 Chrome tabs, a dozen Firefox tabs, OneNote, Zinio, and NetFlix at the same time. And there are no signs of slow performance. However, this laptop isn't meant for heavy gamers. But it's more than enough for a regular user.
Amazing Usability
Its usability is amazingly great, mainly because it's got the MacBook Air functionalities where you get to tap the trackpad with two fingers as a right-click. The ASUS Zenbook UX305 also has a multi-touch control feature, which comes in handy in terms of usability. It has a few strange features though.
For instance, its Delete key is the same size as the power button, which can be confusing for a first timer. Also, the Delete key and the Backspace key are right next to each other, meaning that you can press the wrong button. But with time, you'll be used to it. All these are compensated by the highly responsive keyboard, along with a spacious touchpad. The two deliver smooth glides and quite a number of gesture options.
Awesome ASUS Zenbook design
The best thing about the laptop is its awesome design. It has a color that's somewhere between grey and something like black. The manufacturers call it Obsidian Stone. The color and design makes it look like a really expensive laptop. Perfect for showing off!
Pros
Solid battery (more than 10 hours)
8GB RAM
256GB storage
High resolution, at 1080 x 1920
Amazing design (doesn't creak or bend)
Silent performance
Super thin and very light
Easy to maneuver with the features
The best price (definitely the biggest upside)
Cons
No backlight
Poor speakers, but works perfect with headphones
Can't handle heavy games (probably the biggest ouch!)
Final Thoughts
For the kind of features that come with it, the ASUS Zenbook UX305 is a great laptop for its price. And how much research you do, you'll not get a better laptop, with a better value than this.